Cannabis (Cannabis sativa L.) is the genus name for plants that include numerous species, but can be separated broadly into two classes of plants: industrial hemp and medicinal cannabis. Despite clear differences in desirable traits, hemp and medicinal cannabis appear to readily interbreed making it difficult to legally seperate the two species.
Current discrepancies among state and federal regulators pose a dilemma in how pesticide use in Cannabis production can be researched, addressed and implemented. A working regulatory system for agricultural pesticides requires interactions between producers, industry associations, researchers, state and federal government departments, third-party testing laboratories and educational programs to train farmers and advisors on best management of pest and diseases for managing production in their business models.
There is a limited amount of knowledge about Cannabis pests and diseases. Industrial hemp has been legally grown in Australia for 21 years yet legalisation for human consumption only opened up in 2017, but there is minimal peer-reviewed literature on pests and their impact on hemp yields in Europe, Canada and Australia. However, there is some literature that has identified pests present in both hemp and medicinal cannabis.

There are virtually no published papers showing yield loss from any pests. Even books such as "Hemp diseased and pests: management and biological control", do not discuss yield losses from pests. McPartland (1996b) mentions yields to state that pests reduce yields.
However, he does not cite literature to support this claim, there are no papers that discuss yield loss in hemp from weeds (Sandler, unpub.). Amaducci et al. (2015) reviewed agronomic practices for fiber production in Europe and noted that weed control after planting was usually unnecessary. However, varieties developed for seed or fiber at higher latitudes in Europe and Canada may have decreased vigor at lower latitudes in the U.S. and elsewhere.
Additionally, seed varieties, which are phenotypically different than fiber varieties, may not close canopy as quickly and may be less competitive with weeds (McPartland et al., 2004). To date, there are no pesticides labeled for industrial hemp pro-duction in the U.S. While hemp production has been legal for decades in Europe and Canada, there are few registered pesticides used in its production in Europe and information available from Europe does not mention pesticide use in hemp production (Gorchs and Lloveras, 2008.
Finally, limited research has been conducted on pesticide use in hemp in the U.S. In Kentucky, a series of 11 herbicides (five pre-emergent and six post-emergent) were tested for weed control in hemp. Pre-emergent herbicides resulted in comparable yields to the weed-free check with the exception of mesotrione and were less damaging than post-emergent herbicides (Maxwell, 2016). In conclusion, the APVMA (Australian Pesticides and Veterinary Medicine Authority) plays a central role in this system as it must research review and implement pesticide/herbicides legislation and implement a program for reviewal and enforcement, which it currently does for registered pesticides.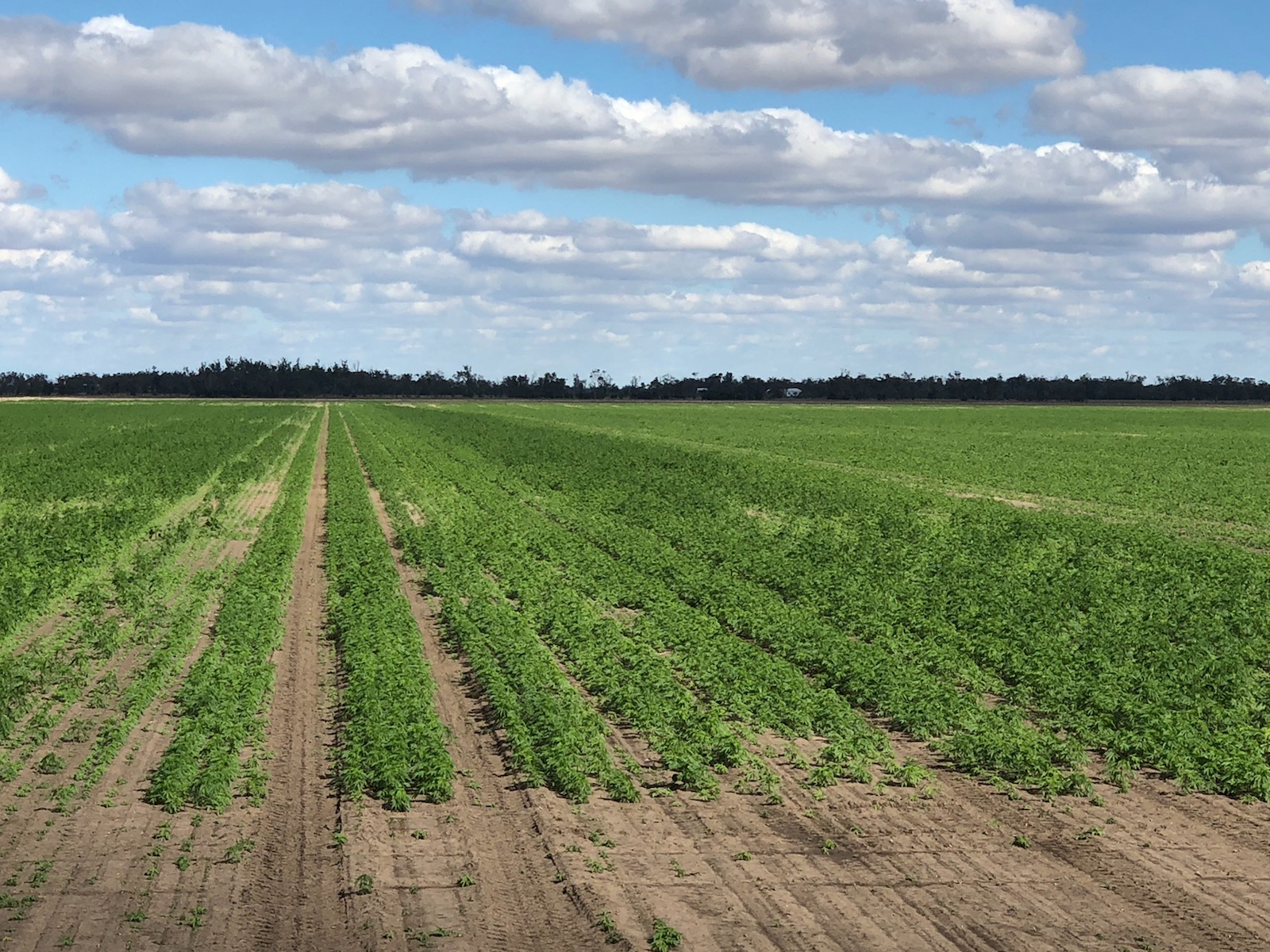 Image: Hemp Farms Australia – Disease Control Management Trials 2018
Written by: Lauchlan Grout – Co Founder Hemp Farms Australia
References
Amaducci, S.D., Scordia, F., Liu, H., Zhang, Q., Guo, H., Testa, G., Cosentino, S.L., 2015. Key cultivation techniques for hemp in Europe and China. Ind. Crop. Prod. 68, 2–16.
McPartland, J.M., 1996a. Cannabis pests. J. Int. Hemp Assoc. 3, 52–55.                                                                            McPartland, J.M., 1996b. A review of Cannabis diseases. J. Int. Hemp Assoc. 3, 19–23.
Maxwell BA, Effects if herbicides on industrial hemp, (Cannabis sativa) phytotoxicity, biomass, and seed yield. Western Kentucky Theses 1742 (2016). https://digitalcommons.wku.edu/theses/1742/[accessed 3 July 2018].
Salentijn, E.M.J., Zhang, Q., Amaducci, S., Yang, M., Trindade, 2015. New developments in fiber hemp (Cannabis sativa L.) breeding. Ind. Crop. Prod. 68, 32–41.
Gorchs, G., Lloveras, L., 2008. Current status of hemp production and transformation in Spain. J. Ind. Hemp 8, 45–64.